Mobile: +44-7451-939817
E-mail: suneel@dcs.bbk.ac.uk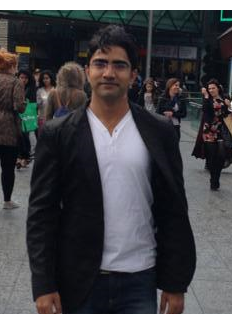 Suneel Kumar Kingrani
Computer Science and Information Systems.Birkbeck (University of London)Malet StreetLONDON WC1E 7HX
.about me

I'm currently a PhD student at Birkbeck college, University of London. My main research intrest is Information Retrievals and how to improve and find new methods to convert web data into information.

.my supervisors
.education

Birkbeck college, University of London - May, 2013

PhD (Computer Science and Information Systems)

Univeristy of Karachi, Karachi, Pakistan - Jan, 2005 to Dec, 2008

BS(Computer Science)

NUCES(Fast), Karachi, Pakistan - Aug, 2009 to Dec, 2011

MS(Computer Science)

.trainings

01. Stanford Online Machine Learning Course by Professor Andrew Ng (Coursera online education platform) (May 2012 - June 2012)

02. Computer Science Seminar titled " Web of Data: A Look into New Scientific Approaches for the Web" by M. Atif Qureshi and Arjumand Younus of KAIST, Daejeon, South Korea - Venue: Institute of Business Administration, Karachi, Pakistan, September 2011

03. Summer School titled "Introduction to Web Science and Technologies" by M. Atif Qureshi and Arjumand Younus of KAIST, Daejeon, South Korea at Institute of Business Administration, Karachi, Pakistan, June-August 2011 (90.67% - A+ grade)
.publication(s)

A. Younus, M. A. Qureshi, S. K. Kingrani, M. Saeed, N. Touheed, C. O'Riordan, P. Gabriella: "Investigating Bias in Traditional Media through Social Media" in WWW 2012.

S.K. Kingrani, M. Levene, D. Zhang: "Diversity Analysis of Web Search Results" in ACM Web Science 2015.

.experience

.technical

Languages: PYTHON, C, C++, C#, Octave, MATLAB, ASP.Net, PHP, HTML, etc...

Platforms: Windows 9x/2000/Vista, Linux (Ubuntu), DOS

.work

Visiting Faculty - Aug 2012 to Dec2012:

Assitant Manager IT - 2009 to 2013

Software Engineer - 2008 to 2009

ITG.
.skills and abilities

Communications

Good written and verbal presentation skills. Use proper grammar and have a good speaking voice.

Interpersonal Skills

Able to get along well with co-workers and accept supervision. Received positive evaluations from previous supervisors.

Flexible

Willing to try new things and am interested in improving efficiency on assigned tasks.

Attention to Detail

Concerned with quality. Produce work that is orderly and attractive. Ensure tasks are completed correctly and on time.

Hard-working

Throughout high school, worked long hours in strenuous activities while attending school full-time.
.activities & hobbies

Activities

Swimming
Playing Cricket

Hobbies

Reading
Cinema
International travel.